DOGS Have Fun
We are committed to providing the absolute best day your dog can every have. Seriously, give us a call!
Who loves your dog? We love your dog. Call us.
Our Services
We offer in-home boarding, daily neighborhood dog walks and dog sitting or travel visits to your home.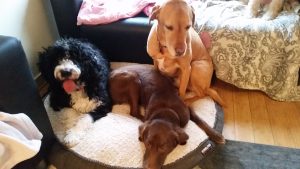 Deluxe Boarding
Dogs roam the townhouse just like your house.
No concrete floor or chain link fences. Just couches, beds, dog friends and loads of human companionship.
Dog walks
Single dog walks or walk with a friend.
We provide single dog walks in your neighborhood unless a joint dog walk is preferred for the social dog.
Dog Sitting
Some dogs prefer their own digs.
Many dogs prefer to sleep in their own bed in your home. We can sleep over at your house or visit your dog 2-3 times per day based on your dog's needs.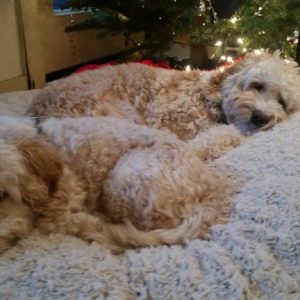 "Sara picks me up and takes me for a ride. I get to hang my head out the window and sit in the front seat. She takes me to my friend Luna's house to play. We have lots of fun with tug of war and chasing stuffies. I love to dig beneath the Rhododentron Tree when I get hot. Sara doesn't like much"
– Bessa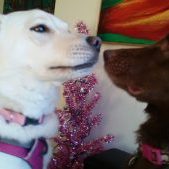 "Sara lets me play on the couch and run around with Ivy all day long. I get to go on long walks with my best pals – Ruby, Bentley, and Nino. My favorite is getting to stay overnight. Sometimes I get to sleep on her bed unless I snore too loud.."
– Elway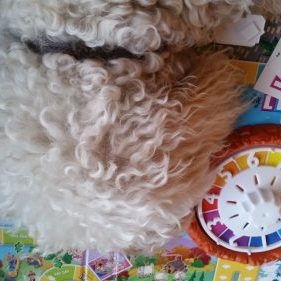 "Sara is the best. Both Loki and I have known her for years. She brings us on long walks near our home, and afterward lets us play in our yard with all of our favorite toys. She lets me play tug-of-war and I always win. She is a good sport!"
– Nymie & Loki